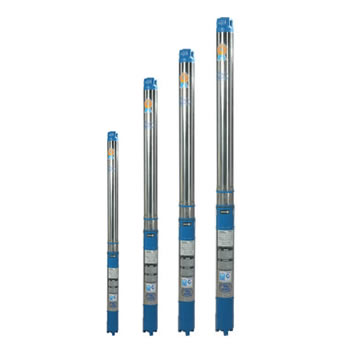 Induction motors are easily re-windable using multi layer PVC insulated wire for better reliability.
Motor filled with water gives better cooling to winding as well as bush.
Self-aligned Teflon OR carbon Stainless steel thrust bearing which withstands high axial thrust load in water lubrication.
Electrically designed to lower power consumption and operating cost.
Non-magnetic, corrosion-resistant high-grade stainless steel stator body.
Water-filled motor is available in capacitor start and run design.
Gun Metal bush is made with additional centrifugal molding process and 2 % Nickel is added
Superior designed Noryl impellers and diffusers give higher hydraulic performance and greater efficiency and provide higher resistance against wear and tear from sand and other impurities.
Stainless steel strainer prevents particles over a certain size from entering the pump.
Pumps are available with non-return valve to reduce the backpressure of water when it is switched off.
Impeller and Bowl are accurately machined by CNC machine to ensure high dimension accuracy.
Rubber bush and SS hard chrome sleeve increase wear-resistance against sand.
Lightweight, compact and robust construction design.
Sprinkler and drip irrigation
Urban and Rular resident water Supply and Industries
Fire fighting system
Agriculture
PARTICULARS
DETAILS
MOTOR
Stator Shell
Stainless steel
Thrust Bearing
Taflon/Carbon with stainless steel segments
Bearings Bush
Leaded Tin Bronze/ Carbon
Breather Diaphragm
Nitrile Rubber
Shaft
Stainless steel
PUMP
Pump shaft
Stainless steel
Discharge casing
Cast Iron
Shaft sleeve
Stainless Sleeve / Engineering Plastic
Bowl/Diffuser
Engineering Plastic
Impeller
Engineering Plastic
Strainer
Stainless steel
PARTICULARS
DETAILS
Bore size min.
4"(100mm) and above
Power Range
0.5 to 7.5 HP
Voltage Range
220V- 240V, AC Single phase , 50Hz
340V- 440V, AC Three phase , 50Hz
Speed
2880RPM
Motor Type
Water filled water cooled Induction motor
Coupling
Key / NEMA
Head
Maximum 455 M
Discharge
Maximum 30,000 LPH
Liquid temperature
Maximum 35ºC
Sand content in water
Maximum 50 PPM