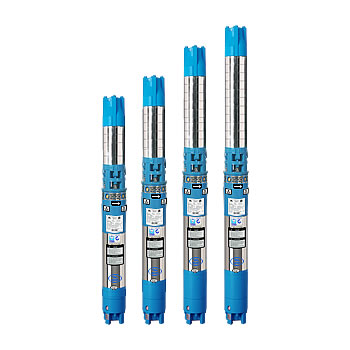 Bowl and impeller SS Material give protection against sand along with better surface finish for higher efficiency.
100% high-grade stainless steel inside and outside provides maximum reliability.
Excellent life even in abrasives as well as salty water application.
Lightweight this makes it easy to install.
Stainless Steel Construction for rust-free and hygienic water supply.
Water extraction from bores of diameter 6" (150mm) and above
Irrigation systems for Agriculture including Drip and Sprinkler systems.
Pressure boosting applications
Domestic water supply to large residences and multi storied apartments
Water supply to commercial establishments like Hotels, Lodges and Hospitals
Dewatering of mines
Industrial water supply
PARTICULARS
DETAILS
MOTOR
Stator Shell
Stainless steel
Thrust Bearing
Teflon/Carbon with SS segments
Bearings Bush
Leaded Tin Bronze/ Carbon
Diaphragm
Nitrile Rubber
Shaft
Stainless steel
Strainers
Stainless steel
PUMP
Pump shaft
Stainless steel
Discharge casing
Cast Iron / Stainless steel
Inlet bracket
Cast Iron / Stainless steel
Bowl/Diffuser assembly
Cast Iron / Stainless steel
Bearing Bush
Leaded Tin Bronze
Impeller
Stainless steel / Engineering Plastic
| PARTICULARS | DETAILS |
| --- | --- |
| Bore size min. | 6"(150mm)and above |
| Power Range | 3.0 to 30.0 HP |
| Voltage Range | 340V- 440V, AC Three phase , 50Hz |
| Speed | 2880RPM |
| Motor Type | Water filled Water Cooled motor |
| Coupling | Key / NEMA |
| Head | Maximum 420 M |
| Discharge | Maximum 500 LPM |
| Liquid temperature | Maximum 35ºC |
| Sand content in water | Maximum 50 PPM |