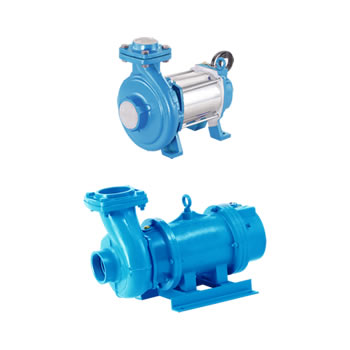 Compactly designed pump set for easy handling and installation.
High-grade cast iron for a better life even in heavy and contaminated water.
Front side carbon bearing with Stainless Steel Thrust Plate and Backside SG Iron Plate with Gunmetal Bush for longer life under various conditions.
Stamping is done with Electrical Grade Silicon Steel for lower power consumption and higher product life.
Advanced Hydraulic Design for highest energy efficiency in the pump set.
Dynamically Balancing Rotating part to ensure minimum noise and vibration-free operation.
No Foundation Required
Pump always Operates under water hence

No suction or Priming Problem.
No Possibility of burning of motor.
No water level gaurd required
Noise Free, Leak Proof
No galnd Leakage
No regular maintenance required in has compared to monoblock or couple

Motor designed to withstand wider voltage fluctuation.
Monoset pumps are generally installed at the bottom of tank/well , its performance do not affect due to change in water level.
Foot valve and elaborate suction piping are not required as pump set is fully submerged in water and hence no priming problem.
Irrigation from open wells, specially where there is a wide fluctuation in water levels
Community water supply from open wells
Canals and rivers
Agriculture
Pumping of water in multistroied building.
Open well submersible
Water supply for cooling tower.
PARTICULARS
DETAILS
PUMP SET
Stator Shell
Stainless steel / Cast iron
Thrust Bearing
Teflon/Carbon with SS segments
Bearings Bush
Leaded Tin Bronze/ Carbon
Shaft
Stainless steel
Suction Strainers
Stainless steel / Engineering Plastic
Wallet Casing
Cast iron
Impleller
Cast iron / Engineering Plastic
| PARTICULARS | DETAILS |
| --- | --- |
| Power Range | 0.5 to 10.0 HP |
| Voltage Range | 220V- 240V, AC Single phase , 50Hz |
| | 340V- 440V, AC Three phase , 50Hz |
| Speed | 2880RPM |
| Motor Type | Water filled Water Cooled motor |
| Head | Maximum 10 M to 54 M |
| Discharge | Maximum 1900 LPM |
| Liquid temperature | Maximum 35ºC |
| Sand content in water | Maximum 50 PPM |